Using wallpaper to back bookcases is such an easy and inexpensive way to give a room a hit of color and pattern! And as we saw with Paige Minear's Library and Eddie Ross's Living Room, wallpaper is a fantastic way to elevate dark paneling or "off the rack" shelves in minutes….
So when Kim, one of our dear readers, showed us how she transformed her very own bookcase at home, we had to feature her DIY Wallpaper Design Project! This stylish, hardworking single mother has fabulous taste and knows how to design on a dime. She also happens to be the miracle worker that's been making the shaggy gray mop on my head look like hair for years – so it's no surprise she can freshen up "tired, out-of-date" things! Ladies, if you ever are in RVA, go to Mango Salon, ask for Kimberly Andrews and watch your day get better!
We love how she took a bookcase she already owned and made it a showstopper. See below!
DIY Wallpaper Design Tips

Wallpaper | Paint | Dark Wax | Clear Wax
Anne: "Ok Kim, lay it on me: What was the process?"
Kim: "First I rough sanded the whole piece for better adhesion. Then I used 'Bonding Primer' from Sherwin Williams so the paint would stick better. I've just found from experience that high traffic pieces like bookcases and desks benefit from this primer step. It keeps the paint looking better longer."
Anne: "That's smart! And then what paint did you choose?"
Kim: "I love Americana Decor Chalk paint in the color "Primitive". It's flat and chalky and looks great with the agate inspired wallpaper – it's especially cool with the gold detail in the paper. And then I ragged on the wax to create depth and durability."
Anne: "Love that! Is the wallpaper tacked up or glued down?"
Kim: "I glued it down with wallpaper glue. It's so easy – just follow the instructions on the glue!"
Anne: "When do you find the time?!"
Kim: "I did it night and on weekends. It really wasn't hard. I was doing my 'Mommy Art Project' while my sweet little girl was doing her art projects. It was a fun creative outlet for me!"
**Go, Kim, GO! We are IMPRESSED!!!**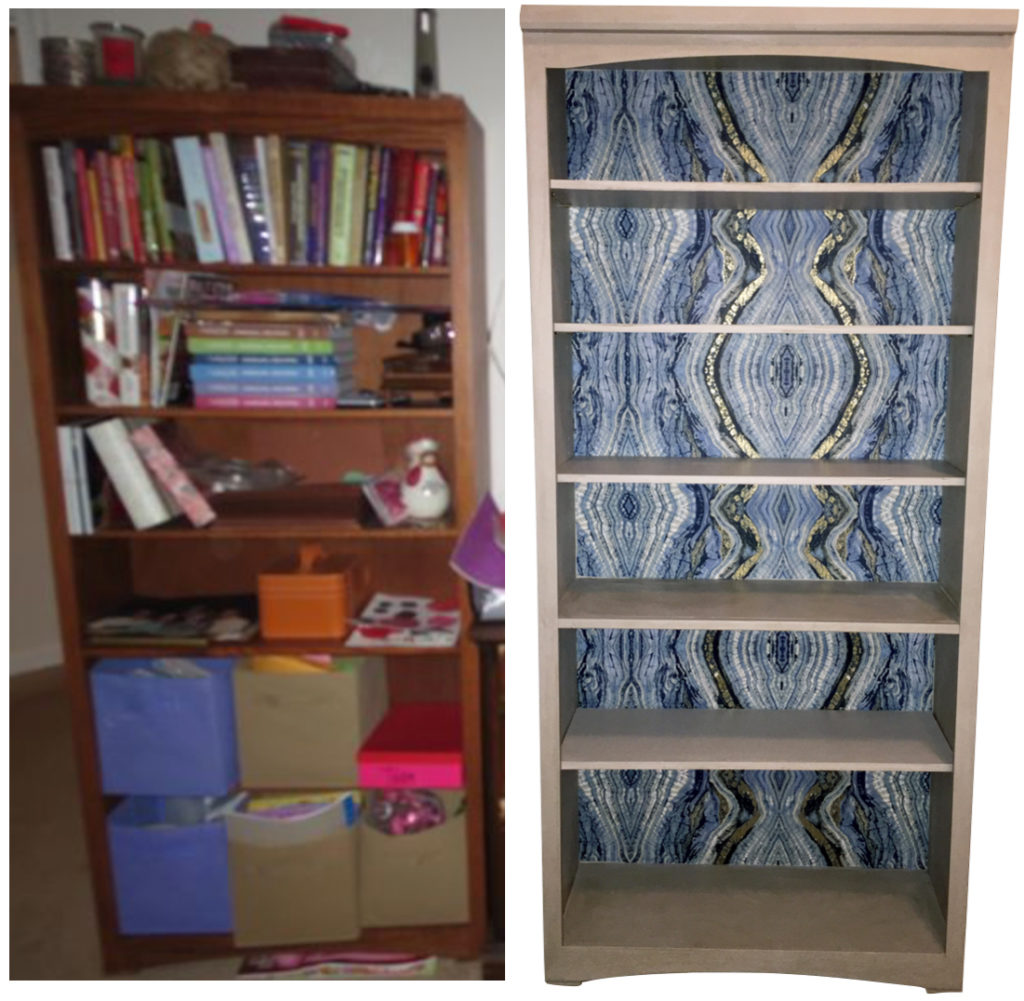 CHEAT SHEET
Other combinations we love…We're dying to see these bookcases backed with one of these papers!
Some of our favorite wallpapers can be found here and here, so grab a roll or a remnant and give a bookcase an update the way Kim did! And if you have your own DIY Design project that you want to share and see published on Hanover Avenue, here is how to submit your magic!
xoxo
Anne