Time flies fast! First, you get married and have a "dog baby". Then you buy a house. Then, you have a kid. Then another kid. Then a dog. Then another dog. . . and then. Another. Dog. (That was the case with this family, at least!) And then you find yourself in an expansive new house to fit your growing family, and who has time to perfectly design every room when you are managing work, a move, a family of precious boys, and three exuberant pups?!
The People Who Live Here
For today's room makeover, we've transformed a dog-loving family's new living room into a gracious space for entertaining. In a large house that already has a family room and a playroom just for the kids, we thought it was about time the adults had their own elegant space to host friends – and after all, this loving couple deserves a pretty place to relax while the boys are occupied in the playroom. The wonderful family that lives here has a classic style rooted in Virginia tradition, so we stayed true to that while adding subtle, modern nods to keep the room feeling fresh and to reflect the wife's bubbly and fun personality. Take a look at how we made it work!
The Paint
The space's pale yellow hue while pretty left the room looking a little washed out, and the curtains against the yellow felt a bit bland. To bring some chroma into the space, we went with Farrow & Ball's Teresa's Green No.236 – a color that lends classic and chic style while still offering a backdrop that compliments almost anything.
The Layout
This room is a wonderful scale, but larger rooms can often be daunting, and we find that homeowners are unsure of how much furniture to include or how to arrange it. The key to finding the balance between too few and too many is looking at the negative space and knowing to fill it appropriately – a person generally needs about 18″-24″ to move around (much less that one might expect!)
The clean lined bench and a single and unique occasional chair add extra and necessary seating while rounding out the furniture arrangement. A floor lamp and side tables complete the room without creating a cluttered effect.
The Fabrics and Finishes
Because this room is tailored for adults, we were able to go with more distinguished fabrics for the chair and sofa pillows. Still, it's hard to stop three dogs from getting into any room of a house! So to anticipate the amount of foot (and paw) traffic, we went with a durable olefin fiber area rug that is meant for wear and a sea grass rug beneath it that's tough as old boots. And chintz is fabulous but still made of cotton!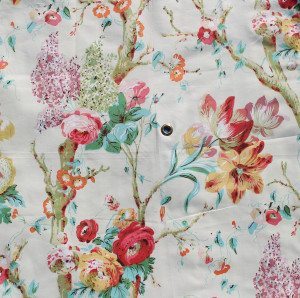 We took the beautiful floral from the chairs and made custom down filled pillows with a gorgeous pleated detail for the sofa. This introduces the pattern from the chairs to the other side of the room while also giving a nod to the pleated shade of the floor lamp by the fireplace.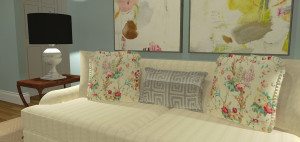 The sofa fabric has the subtlest stripe in the weave adding another layer of texture to the room. For the curtains, we went with classic white linen for a soft complement to the room's bluish hue and to keep the room feeling fresh.
SaveSave
A formal and traditional space doesn't have to be staid or obvious. We gave this living room big personality with charming accessories! Playing up the family's love for dogs, we introduced playful herend figurines, dog books and an adorable dog statue throughout the room.
We introduced a harder edge to the space in the geometric pattern on the sofa pillow, the modern mirrored tray, and the funky studded porcelain vases on the mantle. Large-scale art (with a modern nod) ties the colors of the room together while adding symmetry to the space.
The Furniture
Staying true to the family's traditional taste, we carefully curated pieces that feel as if they've been inherited and collected over time.
We wanted this space to be the perfect setting for both formal and relaxed occasions, so we updated the rounded arms of the chairs with clean-lined, English armchairs that work for any mood and never fall out of fashion.
We also brought in a few silhouettes that are a bit more contemporary to liven the look while honoring and enhancing a classic and timeless aesthetic. The bench, occasional chair and side chair all lend modern twists on classic lines, while touches of faux croc leather on the side tables and distressed leather on the trunk pop with unexpected texture.
The floor plan in your house will likely be different from the one pictured here. That's not a problem! Right here we show you how easy it is to reconfigure everything from the Living Room For Dog Lovers in your own space.
At last you can stop making costly design mistakes!
Below is a rendering just for you, a scaled printable floor plan with elevations, and a buying guide of where you can buy every item in this room.
You don't have to be a dog-lover like these homeowners to make a room look and feel like your own. With the perfect furniture and accessories, you can still reflect your personality while decorating a traditional space you'll love.
Happy Shopping!
xoxo
Anne