THE SPACE
Well look at our little Lowe's Home Improvement Master Bathroom now! **We love playing with the before and after slider!** We teamed up with the ever brilliant Shannon Kaye, and over the next few days, she transforms the space into three different looks – illustrating that a solid design foundation like we created using Lowe's and Kohler can work endlessly in design. Here's her first one!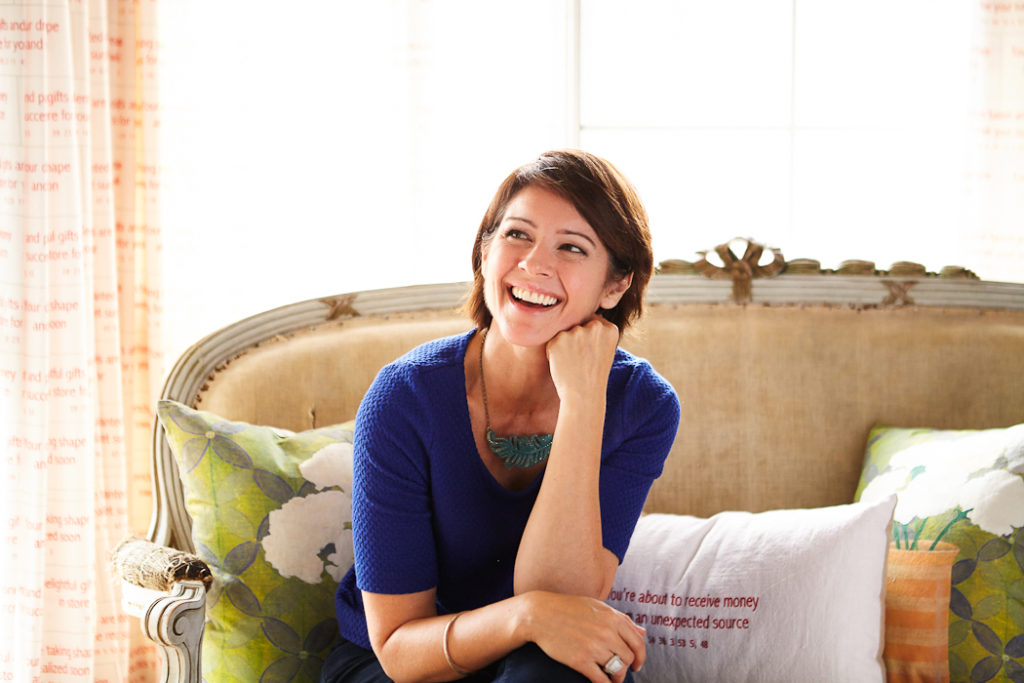 While we suggested Shannon run absolutely wild with whatever she wanted to design, we did have a single request: to make one style reminiscent of a spa. Take a look at what she came back with–we hope you love it as much as we do. SPOILER ALERT: This is not your classic spa!
PS– Be sure to come back to see what style she does unveils for the third Lowe's Master Bathroom.
PPS– Shannon has installed her own art into this room and you can buy it too…so cool!
SaveSave
Here, Shannon gives a glimpse into her design mind through her own words:

The Mood

"Bathrooms with classic materials and finishes lend themselves beautifully to creating the look and feel of a hotel resort or elegant spa. And for me, spas are about luxury and mood. The materials need to be fine, everything needs to be organized for easy access and the feeling needs to be soothing and relaxed."

The Paint

"To create a clean sense of luxury, I would keep the walls, ceiling and trim very neutral with a pale chalky gray, such as Kelly-Moore 5675 Bridal Veil. If the walls are too white, the room could feel cold and clinical; even unapproachable, so colors that have slight contrast from background color of your stone, and I'd use the lowest paint finish possible to keep the walls visually pushed back. If the room is large enough with plenty of natural ventilation, I like eggshell finish for all painted surfaces from walls and ceiling to trim and doors. This allows your white cabinets, gorgeous tub, and stunning marble to keep center stage."

The Accessories

"To fill in the space, I'd select only the most essential accessories looking for items that are metallic or mineral based in look and finish, sculptural and geometric mixed with lush linen towels and an elegant rug for the ultimate sense of comfort. I love geode shapes for stool, bowls and trays, even shelf brackets like the ones I found for the water closet shelf (stack three or four and add a personal collection of unique objects!), which can hold toilet paper, air freshener, and other necessities for that space.

Of course, a comfy soft rug will really give the room a sense of elegance, so look for something that feels wonderful under foot with a pale quiet pattern to keep your eyes and senses up towards the light."
BEHIND THE SCENES
Just a few accessories, and this master bathroom has transformed into a modern spa! We love how instead of going for contrived, Shannon went with modern choices featuring geometric influences that still feel zen. Watch this video with Anne and Shannon to learn why Shannon's design choices work so well.
MAKE IT YOUR OWN
Our biggest wish is that you get to experience the thrill of designing flawless rooms without the worry of design missteps. That's why we have made it so easy to Become Your Own Designer – no matter what your room layout! Just click "Explore This Room" (in upper right corner) to get started: 
1. BUYING GUIDES with clickable links to stores of everything you see. Now you can easily buy anything you love through stores and websites you trust!
2. DESIGN GUIDES with room planners and templates to get this look in your own floorplan. We show you exactly how we do it – It's So Easy!
3. HOW TO VIDEOS and more!
xoxo
Anne