Today is everyone's lucky day because the fabulous Jennifer Schmidt, principal designer of Washington, DC based JWS-Interiors and mastermind behind Box of Chic, has created a family friendly living room for Hanover Avenue! Don't fall out of your chair!
It's not every day that a published designer curates a room for you to recreate for free, but Jennifer is just that awesome. She wanted to show all of you a flawless living room that works for families with children without having that awful "child-proof" aesthetic. Holy cow, did she ever get it right!
Jennifer is known for her affordable luxury and deft mix of textiles. Watch as we reveal all of the amazing details of this room so you can have the fun of re-creating this space no matter your floor plan!
Raise your hands if you love paper dolls?! My hand is raised.
We tried to do a video with Jennifer so you all could see how amazing she is – smart, funny, approachable, and just so sweet – but the tech Gods failed us miserably! So, ever the gracious gal, Jennifer offered to be interviewed in writing.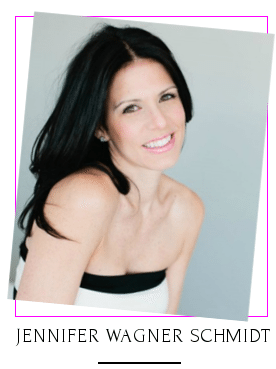 1.  I know our Hanover Avenue readers are going to gobble up your super accessible "Affordable Luxury"! It's a perfect aesthetic for anyone, but especially perfect for families! How do you choose where to splurge and where to save?
Thanks, Anne, for featuring my design! I love to combine high and low-priced items to make for a beautiful space without breaking the bank!  Typically, the bulk of a project's costs are with upholstery. That makes sense because you want to be comfortable on your sofa and/or chairs! I've found that I can find gorgeous accent tables and smaller furniture pieces–consoles, end tables, and stools that are budget-friendly–so I try to save some money on these. 
 2. We both have little girls, so we know that a family room needs to be "bulletproof"! Can you tell our readers how you designed this room around a family?
This project was truly for a modern family with four boys! The couple wanted a room that had a pop of color, yet was kid friendly if…oops, a bowl of cereal spilled! I designed the room around the gorgeous sofa. That darker fabric is forgiving yet is strong enough to anchor the room. You'll also notice that the coffee table is low so no one gets hurt. 
 3. When you are designing a room, is there usually one "jumping off point" for you? Is there a particular impetus that kicked off your creative process for this flawless room?
I find that the creative process can really start at any place in a room, depending on its architectural qualities. For example, expansive windows need a beautiful, perhaps lower profile sofa so that nothing visually obstructs the view.  Sometimes I'll find a beautiful rug and start with that.  I don't believe there are always definitive rules in decorating–take each space as it is.  For this particular project, it was the blue sofa.
SaveSave
4. One of the things that I love about your design is your deft mix of textures and metals! So often it feels scary for people to mix disparate metals and varying textiles, but you show that talent off with ease. I'm sure it feels second nature to you, but can you share any tips with our readers?
Mixing metals is a great idea when decorating!  I know it scares people to mix silver and gold as I hear it all the time with clients and friends, but it can be done. The trick is doing it proportional to the other metal. For instance, if you have a large gold starburst mirror, I would recommend using a silver metal on an end table. The subtleties is what makes the room. Textures are key, too. Mixing a faux sheepskin with linen or velvet plays off each other well and makes a room more interesting. I'd pick three different textures you like and "play around" with them–be it pillows, textured rug, or even larger upholstery pieces.
 5. One of your design trademarks is mixing pops of color with luxe neutrals. What inspires this? Do you do the same thing in fashion? 
I actually prefer neutrals, but in this case, we needed the pop of color in the all-white kitchen since the floorplan was open.   In fashion, I'm a black and white kind of woman.  I do wear pops of red or fuchsia here and there, but I feel my best in the basics.
6. It was so generous of you to share a family room design with Hanover Avenue, but one of the biggest perks of this design is that our readers get to buy the floor lamp, the chandelier, the footstool, and the rug through you exclusively! What is the best way for our readers to contact you for purchase?
 They can contact me at jwsinteriors@yahoo.com  We are happy to help!
7. Let's tell all of our readers about your super exciting new design venture that was featured on The Today Show last week – my whole team and I TOTALLY SPAZZED when we saw the clip! This makes your offer to give one away to a lucky Hanover Avenue reader ever more exciting! YAY!
Oh! I'm so thrilled that we just launched Box of Chic , www.boxofchic.com (@boxofchicstyle), a new home decor subscription service!  Our stylish and affordable box offers a coordinated theme so it takes the guesswork out of accessorizing and decorating your home.   We are offering our first boxes–a Sept/Oct box themed for your desk, and then a holiday box for Nov/Dec.  You can pre-order now! Limited quantities available.  You can also sign up to be the first on our waiting list when we offer membership subscriptions in 2016. 
**Play with the slider bar to see how Box of Style transforms the desk in this very room!
MAKE IT YOUR OWN
Our biggest wish is that you get to experience the thrill of designing flawless rooms without the worry of design missteps. That's why we have made it so easy to Become Your Own Designer – no matter what your room layout! Just click "Explore This Room" (in upper right corner) to get started: 
1. BUYING GUIDES with clickable links to stores of everything you see
2. DESIGN GUIDES with room planners and templates to get this look in your own floorplan
3. HOW TO VIDEOS and more!
#Flawless DesignForAll
xoxo
Anne