Instead of soccer we are now watching Game of Thrones, Daddio. Boop! Same furniture, same layout. . . but a completely different look!
In the original Enormous TV, we designed a crazy fun room full of bold colors, textures, and patterns to offset a gigantor TV. But because that look might not suit everyone's taste, we wanted to show how you can you use the very same furniture and pull off a room that's just as exciting but in a neutral palette. Take a look at these amazing before and afters. BaBoom! The Enormous TV Toned Down!
This is a great example of how timeless and neutral foundational furniture is a fantastic investment. All we did is switch out the art, accessories, and lighting.
Gosh, do we ever love this version of the space! And all week, we'll be going in depth about how to recreate the look, aannnnddd, we'll be giving away a few things from the room to get you started in your own house! BoopdeDOOP!
Just as interesting as the items in the original room, here is a peek at some of what we used in this space. We have carefully curated everything from flowers to paint. A comprehensive list of every item from this room can be found in the buying guide.
Make It Your Own
Our biggest wish is that you get to experience the thrill of designing gorgeous rooms without the worry of design missteps. We all want a pretty house that reflects who we are and how we love to live – now it's so easy. The floor plan in your house will likely be different from the one pictured here. That's not a problem! You can reconfigure everything from the Enormous TV Room Toned Down in your own space. Our Design Guide and Buying Guide outline how to easily recreate this room in your own home.
At last you can stop making costly design mistakes!
Below is a rendering just for you, a scaled printable floor plan with elevations, and a buying guide of where you can buy every item in this room.
We always include complimentary  1/2″ scaled cutouts in our Design Guides for free, but if you would rather have 1/4″ scaled cutouts, here they are!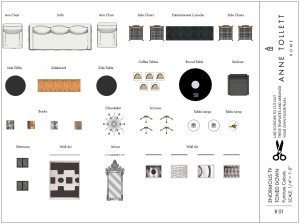 We hope this space inspires you to create a room that reflects your own talents and passions. Nothing is quite as wonderful as a room that echoes the people who live in it! And to the dear reader who reached out to us, we have loved every minute of designing this room for you and your wonderful family! You are a treasure, and we hope your new room sets the stage for someone else to recreate this look in their own home. Big Cyber Hugs from the team at Anne Tollett Home.
 Happy Shopping!
xoxo
Anne
SaveSave
SaveSave