Good design needs to be good to everyone in the family!
For this week's Big Reveal, we wanted to tackle a challenge not many families face: designing a room for a child with a spectrum disorder. We've always believed there's a way to accommodate any family's concerns when it comes to interior design. Whether it's making low ceilings seem higher or creating stylish yet accessible rooms for an elderly family member, you can still have a fabulous house while meeting careful considerations! Spectrum Disorders and Sensory Processing Disorders often present a design quandary for families, but by keeping your little one's needs at top of mind, designing for autism can reap a room everyone can enjoy. Here's a look at what we did!
For this space, we prioritized durability by emphasizing leather, lucite, wool and stone. All of these materials are tough as boots but still lend a modern and elegant aesthetic. The leather of the egg chair only gets better with time, while the lucite of the bubble chair is a cinch to clean.
And the wool of the sofa? Don't think twice about it! Wool is naturally stain-resistant and always looks polished, and while the sectional is expensive, it's literally a strong investment: it's so well made it can be jumped on like a trampoline and look new for years. p.s. It's no secret we're not huge sectional fans, but this one stopped us in our tracks! It is a must see because the chaise piece has a fabulous gentle curve. Pure art in design! ((swoon))
To contrast the soft wool, we used stone on the coffee table and echoed it again in the Carrera base of the arc lamp. Sturdy and strong, these are heavy as lead and cannot be easily toppled when little bodies are on the move!
The Paint
For this space, we created a two-tone pattern with Benjamin Moore's White Heron on two walls and Farrow & Ball's Mole's Breath on the fireplace wall. The neutral gray of Mole's Breath anchors the room in a subtle statement while the soft white is a crisp complement. These are calming, stylish colors that feel fresh and modern.
To add an unexpected touch into the mix, we layered magnetic paint underneath the White Heron walls to create functionality as a magnetic board. Now a child on the spectrum can make movable art and enjoy the varied texture of the magnets on the wall –  so fun to touch!
The Furniture
In addition to choosing durable pieces for this living room, we wanted to curate furniture with safe and versatile function. Nothing in this space has hard edges!
Circular shapes lend softness to the room, and we repeated a round silhouette in the bubble chair, coffee table and beautiful sideboard with curved edges. The lucite swing and egg chair offer an encapsulating quality that allows a child to move while still feeling safe and enclosed.
As for playtime, the sideboard offers ample storage space (all with eased edges), while a round trampoline is set in a unobtrusive spot in the room for a fun place for little ones to enjoy. This space is meant to be an indoor playground that looks as chic as any room in a magazine!
**Sidenote: If the budget is a concern, these are some less expensive pieces that will look beautiful in the room!
The Accessories
The accessories are what really make this room specially designed for a child on the spectrum.
We want to give little ones free reign in this space! So instead of table lamps that are easy to knock over, we opted for wall sconces and sturdy floor lamps. The wool rug makes a durable, spill-proof floor covering, while the cute flowers are made of soft, felted wool. Flowers that are meant to be knocked over, touched, played with, and manipulated – genius! – I want to hug the people that made them.
Even the "sculpture" on the coffee table is meant to be a toy – it is made from the coolest magnetic, wooden blocks. And the fabric toy bins can become a toys themselves! They are expandable and collapsable creating a perfect space for a little body to nestle into or pounce onto depending on whichever mood strikes kiddos' minds…. ((motherly chuckle))
Now about those rock pillows! Repeating the themes of the stone coffee table and the Carrera lamp, these rocks fit right into the room and can be used to make a fort, stack like puzzle pieces, crash landing pad, or provide extra seating (plus, they're machine washable!). Best, when little minds become over-stimulated, these "rocks" provide the perfect place to snuggle into and become buried for a little quiet time.
The Layout
For the layout, we kept this room clean and uncluttered–now there's so much room to play! We created balance with the egg chair and bubble chair on either side of the fireplace, while adding even more symmetry with the fabulous and large sconces.
Designing for a child on the spectrum is no easy challenge and our hearts go out to all of the moms and dads that want a beautiful home that works for their entire family. And while we created this living room with careful consideration, it could still make a lovely space for a household without these concerns or even a single person that just loves chic rooms. Spaces should always work for everyone who lives in them while still looking fabulous!
In the weeks to come we will reveal another version of this room that is far less sleek for all of those readers who do not gravitate towards modern design.
Make It Your Own
Our biggest wish is that you get to experience the thrill of designing gorgeous rooms without the worry of design missteps. We all want a pretty house that reflects who we are and how we love to live – now it's so easy. The floor plan in your house will likely be different from the one pictured here. That's not a problem! You can reconfigure everything from A Room For Everyone in your own space. Our Design Guide and Buying Guide outline how to easily recreate this room in your own home.
At last you can stop making costly design mistakes!
Below is a rendering just for you, a scaled printable floor plan with elevations, and a buying guide of where you can buy every item in this room.
We always include complimentary  1/2″ scaled cutouts in our Design Guides for free, but if you would rather have 1/4″ scaled cutouts, here they are!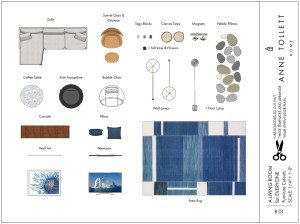 Being a parent is no easy task, and if we can help you create a room that works for all of the lovely people in your life, we will be so happy!
Happy Shopping!
xoxo
Anne
SaveSave