THE SPACE
The world just "feels right" when wildly successful people remain as gracious, kind, funny, and approachable as the day they graduated from school! And that is exactly what you will discover if you ever have the opportunity to meet Eddie Ross at one of his book signings! Eddie is sharing his very own living room on Hanover Avenue, and when you hear him chat in the video, you'll realize just how approachable he really is – the kind of person who would become a beloved neighbor. Creativity, a keen eye for treasures, and chic design are in Eddie's DNA, and he is offering a few of his secrets here today! But if you really want to hop into his brain, pick up a copy of Modern Mix and have your mind blown by his wealth of knowledge and desire to help you all make you house a more lovely place to live!
Photography by Bryan E McCay
SHOP THIS LOOK!
A quick list of what we love!
*And you can click any item below to take you to a detailed shopping list with links to every store!*
BEHIND THE SCENES
You learn so much about a person when you're collaborating together, and here is how wonderful, generous, and professional I learned Eddie Ross really is: While juggling his role as East Coast Editor of Better Homes & Gardens/Author, Speaker, Blogger/and a new house renovation, our in-person interview had to be pushed back twice because of unexpected work commitments. Then, in an effort to make our publishing deadline, Eddie scrambled to fit in a phone interview minutes before he was hosting a party of 20 people in this very apartment! Wow!!
Here is that interview! Filmed at the end of the day, right as people are about to walk in his door, Eddie kindly sits down with us to share his brain with you! And boy are these fantastic design tips! Eddie, THANK YOU!
3 TIPS ON HOW TO GET THIS LOOK
1. White walls offer the eye a visual rest. Eddie and his sweetie, Jaithan, rent this gorgeous apartment in Manhattan and the white walls were a constraint of renting – Eddie we feel your pain! So he smartly looked at them as a "blank canvas", and now they are a key design element. They play the perfect supporting actor role allowing the eye a break, while creating the perfect backdrop for the colors and patterns he brought in with furniture, rugs, and accessories.
2.  Midcentury furniture has distilled profiles that seamlessly work with almost every other style of furniture and accessories! We love how Eddie brings in mid-century pieces without making the room seem contrived! So often, rooms can look "theme-y" when an overdose of mid-century is used. Instead, Eddie uses these pieces as the glue to blend the vast variety of his collections. Now his house looks collected and effortless rather than a room that was bought from one store. Love it!
3. Use a color to unite disparate patterns and textiles. Eddie chose a yummy turquoise to act as a hue that both keeps the eye moving around the room and keeps the cacophony of textiles and patterns from feeling frenetic. This approach is deft and something we love about Eddie. Try this in your own house and watch what might seem like dissimilar items come together in a stunning, new way!
** In the video below, Eddie drops even more insider secrets on how to get this look – too many to type! **
THE COVETED DETAILS
Eddie is the Styling Guru! Look at how he brilliantly blends different movements and eras of treasures he's collected over the years. So much of this is explained in his book in the section 'Mix,' but a quick tip that you can begin embracing immediately is varying the heights of your vignettes with gorgeous books. See how he stacks things to create visual interest? The image below is from my own house and you can see how well this works….ps, there is my already dog-eared copy of Modern Mix!
INSIDER SECRETS!
Three completely killer table settings inspired by Eddie Ross! We have you covered for every occasion and show you where to buy it ALLLLL! So. Much. Fun!
EDDIE ROSS
To learn even more insider secrets from one of the industry's best stylist, head over to Eddie's Blog and follow him on Instagram, Facebook, Pinterest and Twitter.  We could spend hours scrolling through all of his gorgeous photos, the inspiration is endless! And we cannot forget to mention Eddie's Sweetheart, Jaithan Kochar, who co-wrote Modern Mix. Jaithan's wit is dry and hilarious, his heart is as big as his brain, and his written word is as keen as his design eye – the kind of guy who's easy to like and fun to have as a brunch wingman!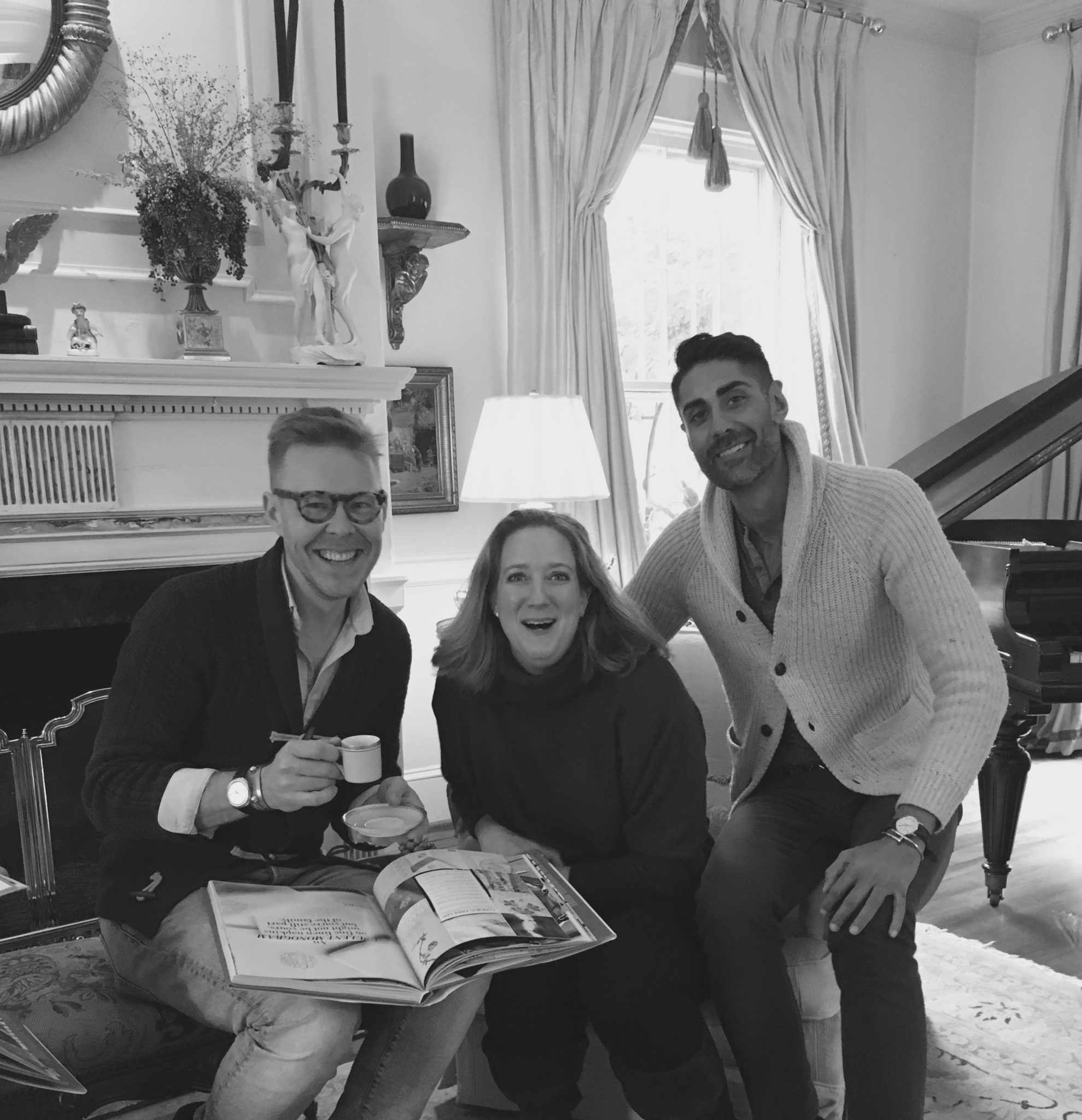 Here we all are (thanks to one of my dearest friends, Hobby Williams Sherman, and her mom's killer quiche)! And this is what happens when your hubby snaps the pic: You Wear A Lampshade As A Hat In A Photograph….
SaveSave
SaveSave
MAKE IT YOUR OWN
It doesn't matter if your floorplan is not the same! DESIGN GUIDES with room planners and templates help you get this look in your own house – no matter what your layout! We show you exactly how we do it – It's So Easy! If you love paper dolls, you will LOVE this!
xoxo
Anne