Photography in story by Domino Magazine, Maria Quiroga, and Bunny Williams Home
BEHIND THE SCENES
Are you wondering how in the world you can create such pretty rooms? Audrey offers all the deets on how to design an apartment in this fun interview with Anne! It's stacked with insider design tips, so grab a pad of paper and a bag of your favorite candy — You don't want to miss this!vi
Video Editing by Pigs Already Fly
THE DESIGNER

Remember the girl in school that could draw anything she saw, had a keen mind, looked like a dream annnd was the nicest, most humble girl in the class?! Me too. And her name is Audrey Margarite!
We could not be more excited to introduce you to the fabulous VP of Design and Product Development of Bunny Williams Home. Audrey is not only incredibly kind, she's bananas brilliant with a Masters in Architecture from Columbia University, BA in Architecture from Barnard College, and an Interior Design Certificate from Parsons. Whew, our branes jsut shortt sercuted tipeing that! But it's her kindness and modesty that are most impressive, and if you watch her video, you will see why!
Starting out on the interiors side of Bunny's legendary office, Audrey was quickly drawn to the product side during its inception 10 years ago and hasn't looked back. She now oversees every single item that is created under the BWH umbrella, a brand whose craftsmanship and quality is unrivaled. Talk about Girl Power! And she's getting to see even more fruits of her labor as a new line launches for Bunny Williams Home today!
SaveSave
SaveSave
3 TIPS ON HOW TO GET THIS LOOK
1. Use a high contrast color palette that isn't black and white – Unlike Stevie Wonder, ebony and ivory can sometimes go hardcore and severe, but Audrey's apartment is the perfect example of a high contrast palette done well. She pulls upon a graphite grey and a warm white to soften the stark color disparity. This tactic leads to visual intrigue without feeling to harsh. Play those notes, Audrey!
2. Use a sectional in an open floor plan – When you are working in an open floor plan, use the back of furniture to act as a room divider instead of a wall. The positioning of a section easily anchors a room. It shows you in what direction the space is oriented and subtly suggests where the room ends.
3. Subtly repeat shapes. Audrey's apartment has angles galore! It is this subtle repetition of form that acts as a grounding rhythm throughout the entire apartment and unites the space. Angles are found in everything from the edge of the side table, to the stitching on her ottoman, to the Moravian star light in her entry  – see how her artistic eye makes design magic in the video above. OoohWeee, her pad has sophistication and edge (pun intended!)
SHOP THIS LOOK
SaveSave
SaveSave
*You can click any item below to take you to a detailed shopping list with links to every store!*
INSIDER SECRETS!
Wanna blow your design mind even more? Here's a quick peek into Audrey Margarite's Master Bedroom. She reveals all of the insider tips in the video above!
The neutrals, deep grays, creams and whites are timeless. And best, as your taste changes, you can always switch out the smaller elements, like the coverlet or the pillows. Choosing more neutral colors for your larger pieces (like the headboard and the chair) give you a clean canvas upon which to build.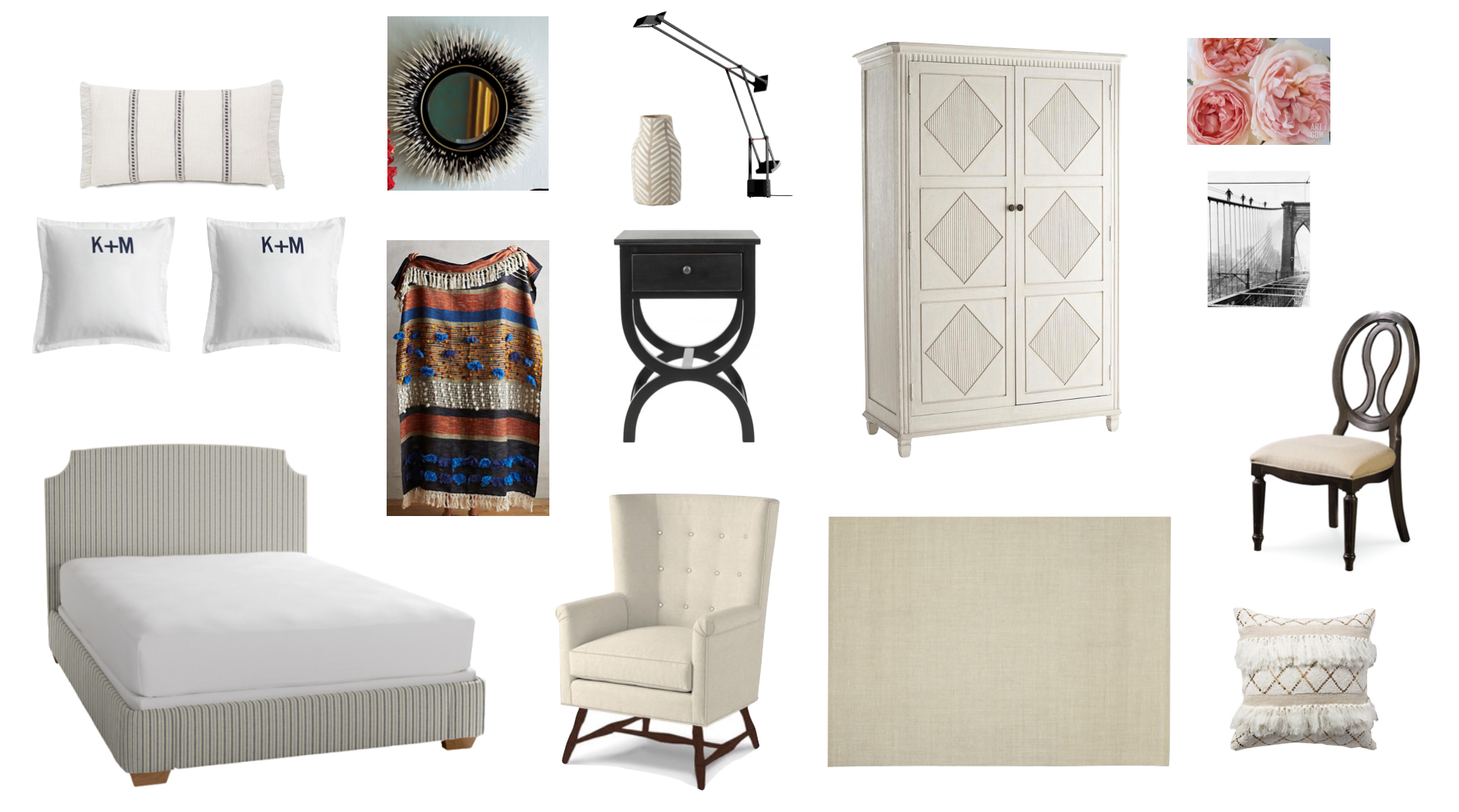 Upholstered Bed | Euro Shams | Lumbar Pillow | Blanket | Mirror | Bedside Table
Task Lamp | Vase | Wing Chair | Armoire | Area Rug | Flower Print | Photograph | Side Chair | Pillow
SaveSave
SaveSave
MAKE IT YOUR OWN
So now you can understand just how thrilled we were to sit down with design dynamo, Audrey, and talk with her about her stunning Upper West Side apartment. We hope you have some time set aside to take in her video on all things awesome. It's not every day that you get to glean tips and tricks that Audrey learned from the master, Bunny Williams, firsthand! No matter how big or small your space is, remember that there is always room for style! To learn more about Bunny Williams, we urge you to take a look at her portfolio here, and then head over to Bunny Williams Home to explore the amazing home goodies they offer! You can also follow BWH on Instagram, Pinterest, Twitter, and Facebook.
#FlawlessDesignForAll & remember, pinning is winning 🙂
xoxo
Anne