THE BIG REVEAL
Ooohwee! We have a unique room for a beloved Hanover Avenue reader this week! She's a naming consultant – one of the most interesting jobs on earth. And while we can't fully disclose how cool her day-to-day really is, just know that she's named some of the most important products in your everyday life!
For this commissioned sunroom, we wanted to create a space that could be used all year by this loving family of four. Our reader LOVES the color white (we like to think it feels like a blank piece of paper to spark her creativity!), but like so many of us, her love of white has a pesky habit of creating rooms that that feel too bland or whitewashed. To make things interesting, we combined a nordic aesthetic with the glass influence of a solarium. And what did we end up with? A sunroom that strays away from the typical beachy vibe and is now the best room in the house!
Watch as Anne reveals this room to our reader for the first time. Also welcome our bonus guest, the family's black pug, Deacon! SPOILER ALERT: This pooch has some hilarious outtakes at the end of this article!
MAKE IT YOUR OWN
It's so easy to recreate this look no matter your floor plan! "Become Your Own Designer" and experience the thrill of designing flawless rooms without the worry of expensive design mistakes. It's as easy as 1, 2, 3 – chose, plan, shop! 
Love anything you see? We have a detailed BUYING GUIDE of everything from this room so you can easily re-create the look in your own house using stores and websites you trust!
BEFORE & AFTER
Our reader wanted to embrace white in this sunroom to create a space that's used beyond the summer months. See our Befores & Afters!
6 TIPS ON HOW TO GET THIS LOOK
1. Wallpaper the ceilings. Our reader originally wanted beautiful shiplapped walls, and while we would've loved to, doing this would've taken this project WAY over budget. Instead, we created an equally intriguing look on the ceilings for relatively little money. Wallpapering ceilings is an inexpensive way to catch the eye because the patterns don't need to match around windows and corners when you install them–that means fewer rolls to buy and less waste!
2. Visual interest on the ceilings? Check. Now achieve an equally intriguing aesthetic on the floors through whitewashing. We love whitewashing floors because they add just the slightest touch of levity while being versatile. This type of floor can easily adapt to your changing style–it's simple, unassuming yet always feels so natural.
3. Make a white room feel less white by going nuts with TEXTURE. We created a space with a crisp, white color palette, but we didn't just leave it bland. Take a look–this sunroom is filled with touches of crackly wood, stone, cement, copper, brass, silver and leather. While none of these textures steal the thunder away from the clean aesthetic, they add so much to the room.
4. When in doubt, go green! We love adding foliage to a space because plants don't FEEL like you're forcing color into a room, yet it brings in so much life. An extra tip: when hanging plants from the ceiling, go with succulents. Because they don't need as much watering, that means fewer trips up and down the ladder!
5. Be a magician! When you want extra windows but don't have the space, you can still create the illusion of them by using the right mirrors and glass. Here, we've made the empty wall less awkward by placing an oversized window-like mirror to reflect the outdoors. The paned glass that covers the art photographs on the wall also achieve a window-like effect by bouncing reflections throughout the room.
6.  If you feel you're using too much white in a space, add touches of wood for an easy fix! This helps kill the sterility of a white space, while also creating an earthy, organic touch that effortlessly brings the room back down to earth.
THE COVETED DETAILS
This room has so much to offer for year-round entertaining! Apart from the big design choices we made, here are the extra steps we've taken to complete this look.
Always make the space your own! We try to infuse touches of quirk to show off a homeowner's personality. Throughout the sunroom we've placed unique journals and pencils, her own photography, pug-shaped shakers (to reflect her pooch, Deacon the pug!) and repurposed bird cages to hang extra plants. It's these details that really make a room, YOUR room!
Turn your plants into lamps! ((a rhyme worth repeating!)) To give the plants an extra bling, we strung them them with string lights – now they are lamps at night and created cozy ambiance! Just be sure to stray away from holiday lights to keep a chic aesthetic.
BEHIND THE SCENES
OUTTAKES
No More Mistakes!
It doesn't matter if your floorplan is not the same! DESIGN GUIDES with room planners and templates help you get this look in your own house – no matter what your layout! We show you exactly how we do it – It's So Easy! If you love paper dolls, you will LOVE this! Here is a video to show you how these things could work in any room!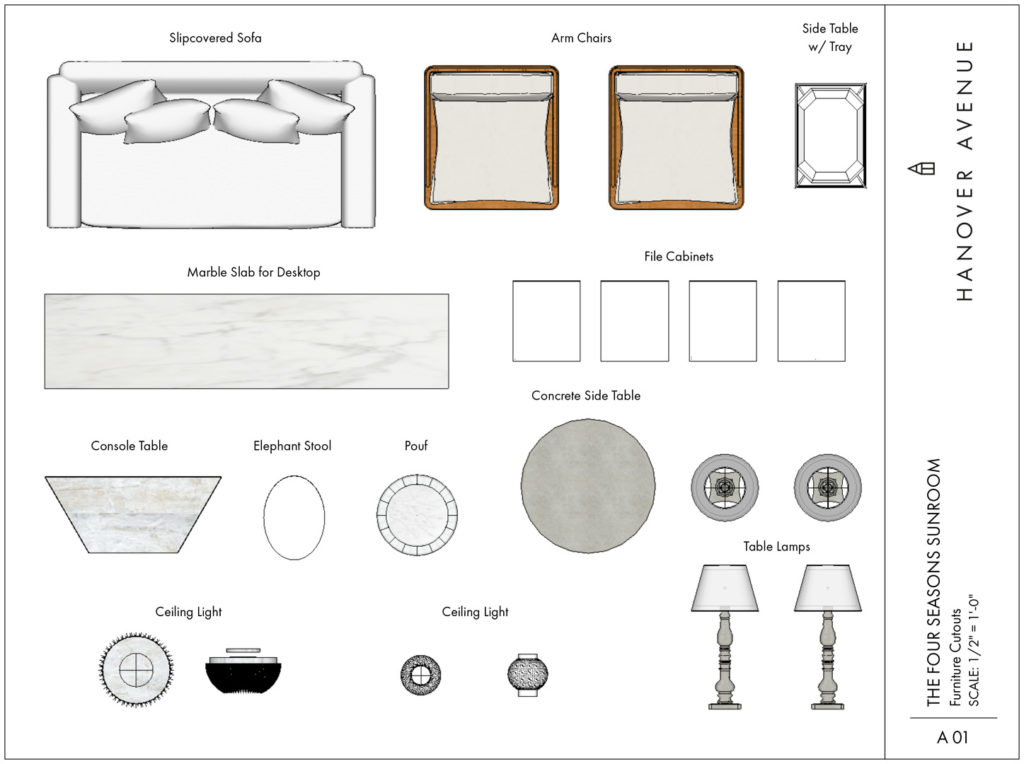 SaveSave
SaveSave
SaveSave
Have fun Becoming Your Own Designer!
1. BUYING GUIDES with clickable links to stores of everything you see
2. DESIGN GUIDES with room planners and templates to get this look in your own floorplan
3. HOW TO VIDEOS and more!
xoxo
Anne