Nanny must've needed better bedding….
It wouldn't matter if I got a full eight hours of sleep–I'd still wake up looking like I'd been hit with a stick. (Incidentally, if there is a parent reading out there who gets eight hours of uninterrupted sleep, please help us understand how to accomplish that!) I can't recall when I turned the corner from fresh-faced in the morning to 'Hag at Dawn', but here's what I know:
 If I'll never again look amazing when I awake, I might as well look amazing while I'm asleep.
So here are two beds of my dreams.
The first bed is a bit more formal and requires some "making"…. But it's pretty and feminine to please your everyday gal yet tailored just enough to keep a man from objecting to it. I love this bed because it can work with almost any existing bedroom furniture, wall color, or art. It's like a chameleon that way because of its lines, color palette and textures.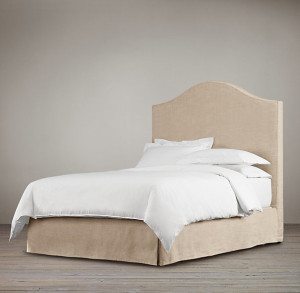 And this simple white diamond matelassé is a staple for me – it's a chic work horse that looks good no matter where you use it!
The second bed is far more relaxed and super easy to make. Just pull up the duvet and done! I imagine this in a beach house or country retreat with all white walls. It makes enough of a statement on its own that requires very little else in the room, which is ideal when furnishing second houses. It would look lovely with very modern or traditional white furniture (or better yet, a mixture of the two!)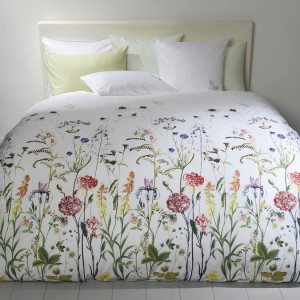 And the bedding? This no ordinary bedding.–it's a true work of art. Whenever I see this print, I'm stopped in my tracks.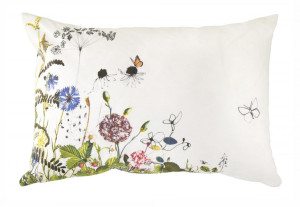 It is like looking at an artist's endlessly intricate and beautiful botanical study. Varying line weights and mediums are all reflected in these linens. You just have to see it!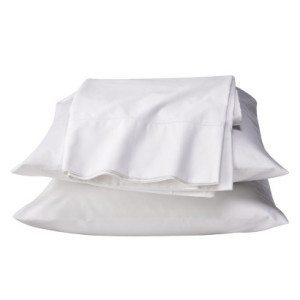 I've paired this stunning bedding with the most economical and high thread-count sheets I know available anywhere – they're so easy replace if they get grungy.
And the pretty white bed frame has an upholstered rail so there's no need for a bedskirt, which is fitting with such a simple and elegant bedding story.
I wish I could promise either of these beds will eradicate bags under the eyes, bedhead and wrinkles, but I can promise you this: you'll feel lovely all night long and decadent all day having any of this in your room!
Happy Shopping!
xoxo
Anne
---
Buying Guide
A complete, clickable guide to buy every item in this room.